Only a few days ago, a group of protesters broke into the Banesto building on Barcelona's Plaça Catalunya and set up a squatters' camp to be the headquarters for acts of protest which would culminate in clashes with riot police coinciding with the 29 September general strike.
The Banesto building has sat empty for many years; now was our chance to see it on the inside, so risking life and limb, Albert and I grabbed a camera and shot some footage of the interior.

Flash back to 1937, and read the words by George Orwell in Homage to Catalonia.
Up at our end of the Ramblas, round the Plaza de Cataluña, the position was so complicated that it would have been quite unintelligible if every building had not flown a party flag. The principal landmark here was the Hotel Colón, the headquarters of the P.S.U.C., dominating the Plaza de Cataluña. In a window near the last O but one in the huge 'Hotel Colón' that sprawled across its face they had a machine-gun that could sweep the square with deadly effect.
These images of the same spot in Barcelona look eerily similar, even though they were taken 73 years apart.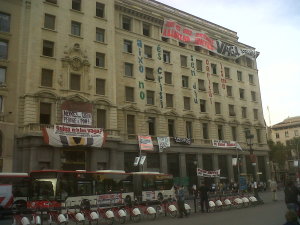 Did you ever have a wealthy neighbour with a big mansion who fell on hard times, and now the mansion lies empty, dilapidated and almost forgotten?
Such was the case of our illustrious neighbors on Plaça Catalunya, the Banco Español de Crédito, better known as Banesto. Occupying what is arguably the grandest building on the plaza, it was the bank's Barcelona head office for many decades. It recent history is quite checquered, once vacated by the bank, plans first were to turn it into a hotel, then into luxury apartments. Finally, reality and the property market crash left an empty eyesore on the plaza.