Roses, literature and love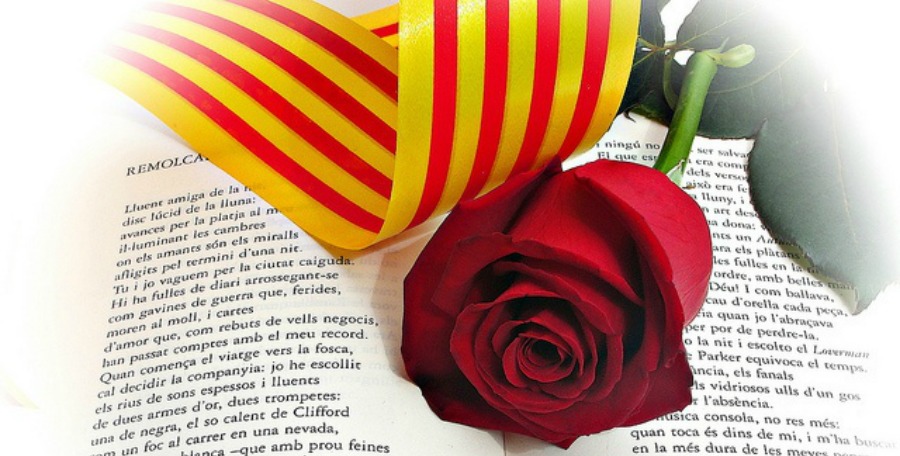 April is a great month to visit Catalunya for many reasons. The locals embrace spring; the city turns into a beautiful palette of greens and pastels; the atmosphere is full of culture, literature and love. This is Sant Jordi, our own Catalan answer to Valentine's Day.
Maybe you already know that the 23rd April is considered the World Book Day as the world lost two of the most important poets and playwrights on that day in April 1616: Miguel de Cervantes Saavedra and William Shakespeare. But Sant Jordi goes beyond that. In Barcelona and all over Catalunya this day becomes an especially romantic festivity. The tradition comes from the famous legend of St George killing the dragon to save the beautiful princess from been offered in sacrifice to the beast. It is said that from the pool of red blood coming from the dragon's heart the most beautiful roses sprouted. There are many versions of this story though.
Today couples exchange gifts on Sant Jordi: a book for the men and a rose for the women. You will find book and flower stalls everywhere.
Whether you are Don Quixote in search of your Dulcinea, or Juliet waiting for your beloved Romeo, you must live this unique Catalan tradition. Here some activities you might enjoy on this day:
Books signature: Important writers will be signing your books at FNAC Arenas Mall, Fàbrica Moritz and Antiga Fàbrica Damm. There will be more signature listings as the day comes for sure.
Plaza Sant Jaume: The Chapel of Sant Jordi and the Government Palace open their doors to visitors.
Las Ramblas: It is full of flower stalls all over the year but on Sant Jordi every square meter is filled with flowers, books and artists but if you dislike crowds you might prefer heading somewhere else.
Rambla Catalunya: More of the same, couples, roses and books.
Rambla del Raval: You will find flower and books stalls too, but since it is an open space, you will walk freely and may be able to choose a restaurant to enjoy a romantic lunch with no hassle.
If you are planning a love retreat, your anniversary or your honey moon during this month, Barcelona is your destination for sure. We will make all the arrangements to fill your atmosphere with love.