You can't possibly visit Barcelona without a legendary tapas experience. Traditionally food to snack on at the bar, some restaurants have made a very sophisticated cuisine of tapas. Both the casual snacks of cheese, cured meats and olives, as well as the fancier slow cooked dishes served tapas style are worth your exploring. This fashion of serving small dishes encourages camaraderie, sharing, and delightful conversation. In some settings diners are even encouraged to stand and move around with the convenience of small, delicate nibbles of food. Some of these spots are actually so petite that the intimate environment offers no choice but to have a mobile meal.
Here are 5 favorite Tapas restaurants in Barcelona
Quimet i Quimet
This classic tiny tapas bar specializing in conservas (preserved shellfish) and montaditos (tapas over bread). Any seafood dish here is delicious. If seafood isn't your favorite then you will definitely enjoy their various charcuterie tapas. You'll want to arrive early for cocktails as this small places fills up fast.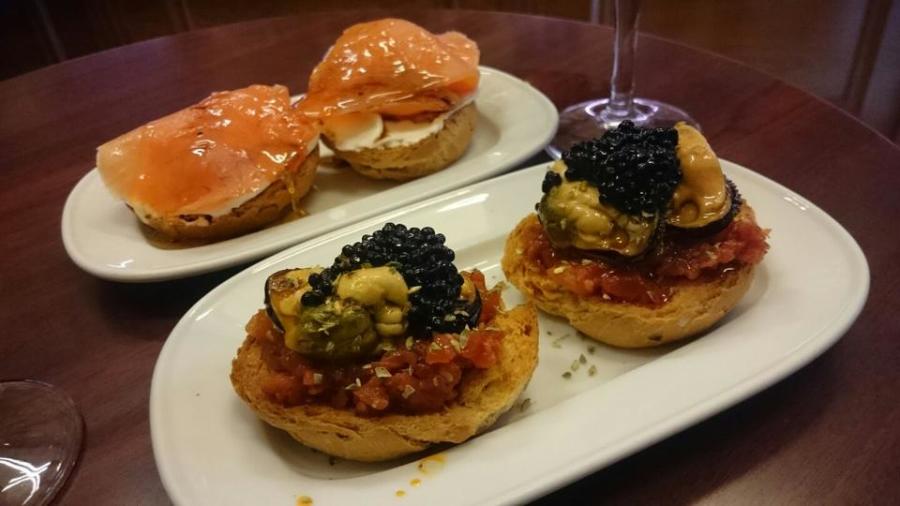 La Tieta
This is as traditional as it gets. It's nothing fancy, but is good, old fashioned tapas served with choice wine, and flowing draft beer. You'll get great, homey Mediterranean flavors of chickpeas, prawns and olives, with a delicious drink alongside it.
El Vaso de Oro
One of the most famous bars in the whole city, El Vaso de Oro's tapas are just as exciting as its extensive draft beer selection. The bar will be packed, no matter how many people are eating, so be sure to get there early. This is the spot for beer-lovers in the whole city, and the little bites will be a great pairing to whatever you're drinking.
El Sortidors del Parlament
This is a great place for wine-lovers with their stunning selection of vintages from around the world. Perched beside an old wine barrel you'll enjoy wonderful wines and dried and cured meats. You will surely leaving feeling happy and full!
Tapas 24
This is a great place to explore the modern tapas movement. Focusing on quality, local produce, Chef Carles Abellan draws a crowd for his oxtails stews, fried prawns and other signature snacks. If you're a foodie, this is the place to go to check out what this beloved Spanish chef and restaurateur is doing to the tradition of tapas.
Tapas restaurants in Barcelona will mix this variety of history and nouveau cuisine experiences into a delightful night of food and drink. You'll experience some of the traditional salty bar snacks of cured meats, cheeses olives and bread – which are surely designed to keep you thirsty! – as well as more modern takes on tapas dining. It will be an delicious and inviting night out in this beautiful city, as you mingle and eat communally. While staying in one of the luxurious bizFlats accommodations you're sure to have a great tapas experience nearby as Barcelona is known for its food culture worldwide. You will definitely find something to your taste around this gorgeous city on the sea.