Are you planning on spending the New Year in Barcelona and looking for a special way to ring in the next year? Then look no further; we've compiled a list of the best parties for you to celebrate the night away with your partner, friends or family.
For locals, the celebration starts at home with a family meal and the traditional eating of 12 grapes at midnight, before hitting the town. However, we've selected a range of events starting before and after midnight at restaurants, bars and clubs so you can find the best event for you.
So what are you waiting for, start planning a New Year you'll never forget in the centre Barcelona!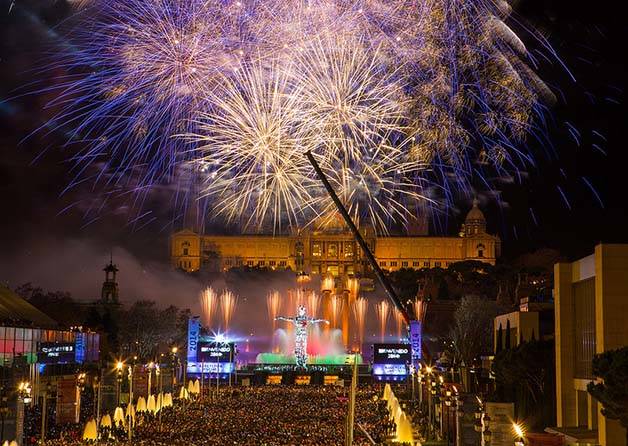 New Year's Eve Parties in Barcelona
Fireworks: Plaça Espanya, Av. María Cristina
Unlike other cosmopolitan cities, it was only in 2013 that the tradition of an official outdoor New Year's event began in Barcelona. Now locals and visitors alike can wrap up and get together to be awed by a fantastic performance of fireworks and music! This family-friendly celebration is free and starts at 9.30 pm.
Sutton: C/ Tuset, 13
Looking to spend the New Year in style? Then we have the place for you! With tickets starting from €50 (including 3 drinks) and VIP tables starting from €1,000, this New Year's Eve the exclusive nightclub venue plays host to DJs and artists such as Juanpa Claret, Gerard Roig and Xavi Ques.
Bling Bling: C/ Tuset, 8–10
One of the city's most exclusive nightclubs offers you an unforgettable evening starting at 1 am. With a selection of DJs, the option of VIP tables and the best music, ring in the bells with your loved ones at home then get the party started. We're sure you'll dance the night away.
Gatsby: C/ Tuset, 19
This themed restaurant come nightclub will take you back to the 1920s. Enjoy an exquisite menu of local and international dishes plus nightlong entertainment with singers, dancers and much more. After dinner, grab a cocktail and hit the dance floor. This luxury space won't disappoint!
Sala Apolo: C/ Nou de la Rambla, 107
From 01:00 to 05:30 you'll have access to two exclusive events held at one of Barcelona's most renowned nightclubs, with over 75 years of clubbing tradition. In the main room, enjoy Nitsa live electronic beats from Shelby Grey, DJ Kosmos and more. In room 2 or "La 2" discover Astin, Nitsa's house and disco alternative. Early Bird tickets are only €25 – what are you waiting for!
Razzmatazz: C/ dels Almogàvers, 122
With five different rooms, Razzmatazz really does have something for everyone. Choose from two ticket types, with entry either from 22:30 or after midnight, including two drinks and a special edition T-shirt – plus grapes, party favours and cava if you choose to see in the New Year there. Tickets cost €54.50 or €44.50 respectively.
Pacha: Passeig Marítim Barceloneta, 38
Head to the Barcelona seafront to party the night away at Pacha, with a selection of Europe's most famous DJs. As well as being a nightclub, the Pacha restaurant also offers a dinner right by the sea and includes entry to the club to the exclusive New Year party.
Poble Espanyol
Av. Francesc Ferrer i Guàrdia, 13
Starting at 10.30 pm, discover a traditional Spanish street party in the centre of Barcelona at the Poble Espanyol. A standard ticket costing €40 (until December 26) will grant you access to three different outdoor spaces. Grab a VIP table with your friends and loved ones starting from €120. Tickets include four drinks, grapes and party favours.
Catwalk
Carrer de Ramon Trias Fargas, 2–4
Catwalk boasts the best of R&B and hip-hop music in an exclusive space located on the seafront. With a range of tickets starting from €30 right up to €3,500, enjoy three rooms, neon lights and an outdoor terrace.
Wherever you choose to celebrate the end of the year, we hope you have a blast!